To some, the disciplines of medicine and stand-up comedy may seem worlds apart, but there is a lot of humour in medicine, and you really have to learn to the see the funny side of some things if you are going to survive such a serious job.
'Doctor in the House' is my stand-up comedy show highlighting some of the funny things which arise in a doctor's office on a day to day basis. It looks at the human condition and the doctor patient relationship from a playful, interesting and light hearted standpoint. (No individual patient particulars or specific real life cases are discussed in the show). As one critic put it, "Funny stories — which anyone who's ever been to see a doctor can appreciate".
There is also a more reaching subtext to the show. The viewer will hopefully leave with a few thoughts about how they might improve their own health and doctor consultations in the future.
The 2016 tour addressed cancer awareness and bereavement. Through ticket sales and donations I am proud to have raised over $11k AUS. The 2017 tour tackled Islamophobia. I did two performances in London in 2017 which was dedicated to everyone affected by the Grenfell Tower fire and the shows raised over £2k GBP for the dispossessed fund. Some of the fundraising pages are still open and for more information please click here.
The show has been met with great success and was totally sold out in Perth Fringe, Adelaide Fringe, Edinburgh Fringe and Melbourne International Comedy Festival.
"Only a true artist can make mortality funny, and it seems one has been born in Perth's newest comic, Dr Ahmed" PerthNow
After having gained some confidence with the comedy, I am being brave and venturing into the world of cabaret in 2018! Watch this space!
---
Upcoming Show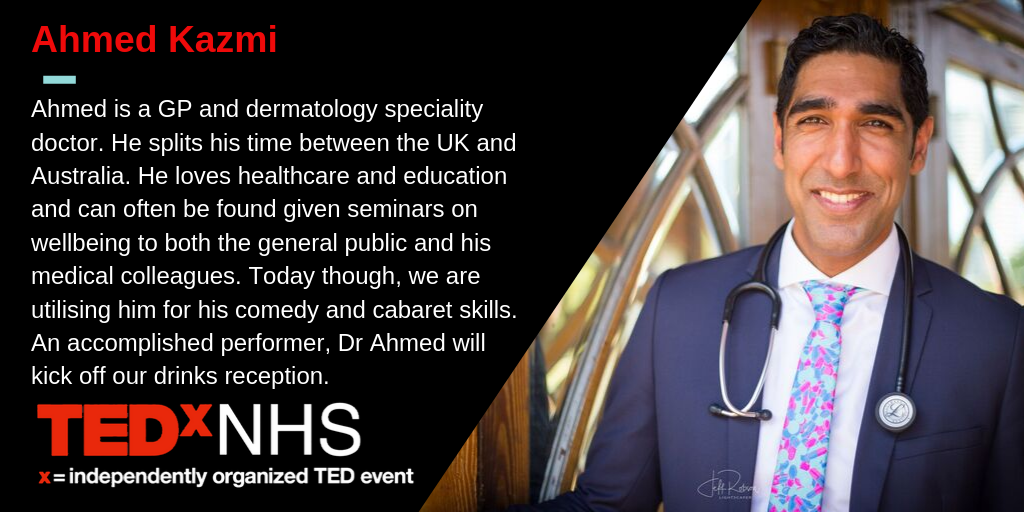 Laughter is the Best Medicine
Comedy/Cabaret Set
TEDxNHS After Event Social
Indigo at The O2
7pm 4th October 2019
LONDON
> DETAILS
---
Past Shows:
Understanding Depression – A Pragmatic Approach
The Drawing Room
The Good Life Experience, Hawarden Wales
— 8pm 14th September 2019


Doctor in the House / Cabaret Consultations
Seminar on Understanding Depression
The Big Retreat Wales, 25th-26th May 2019
Lawrenny Penbrokeshire

Laughter Is the Best Medicine
College House, 34 Harrogate Street, West Leederville
— 6.30 Thursday 7 February 2019

THE RKCC PRESENTS:
Doctor in the House
Hotel Clipper, Rockingham
— 7pm 1st February, 2019
Cabaret Consultations
The Pleasure Garden, The West Australian Spiegeltent
— 8.45pm 18th, 19th, 20th January 2019
Cabaret Consultations
Perth Fringe, The Gold Digger
— Feb 19-24, 2018 — SOLD OUT!
Doctor in the House
Adelaide Fringe, Studio 7, The Garden of Unearthly Delights
— 7-11 & 14-18 March 2018 — SOLD OUT!
The Tabernacle, Notting Hill, London
— 30 June & 7 July 2017
Melbourne International Comedy Festival, The Butterfly Club
— 10-17 April 2017 — SOLD OUT!
Perth Fringe Festival, State Library Theatre, WA, Australia
— 15-18 February 2017 — SOLD OUT!
Edinburgh Fringe Festival, Scotland
— August 4-14, 2016 — SOLD OUT!
Bablake Theatre, Coventry, England
— July 30, 2016 — SOLD OUT!
Hollywood Fringe, Sacred Fools Theatre, California
— June 19-26, 2016
Brighton Fringe, England
— May 20-24, 2016
Adelaide Fringe, Live From Tandanya!/Oval/Gluttony, Australia
— Feb 24-28, 2016 —

SOLD OUT!


Season extended due to popular demand!!! — March 8 – March 14, 2016
Perth Fringe, The Moon Café, Australia
— Feb 5-9, 2016 — SOLD OUT!
---
Reviews:
In 2017 I participated in the Barefaced storytelling competition, it was my first time participating in a story telling challenge. I was very honoured to have competed against such accomplished story tellers and was very humbled and excited to have won the competition!
Save
Save